It is often said that Koreans cannot go one day without eating rice, and once you come to Korea, you find out it is true! Rice is the most important ingredient in Korean cuisine. Typically, Korean rice can be eaten during all three meals – breakfast, lunch, and dinner – people will never get sick of eating it. Rice can be simply served as a side dish to soups, stews, and barbecue. It can be mixed with vegetables and meat. It can be fried with sausage and egg. It can be ground and made into rice cakes, or even bread. It suffices to say that there are plenty of ways to cook with rice, and Koreans have probably tried – and perfected – all of them.
If you have been to Korea, you have probably noticed that Korean rice is not like the kinds of rice eaten in India, Vietnam, or China. So what makes Korean rice Korean, and what are some of the best kinds of rice you can get?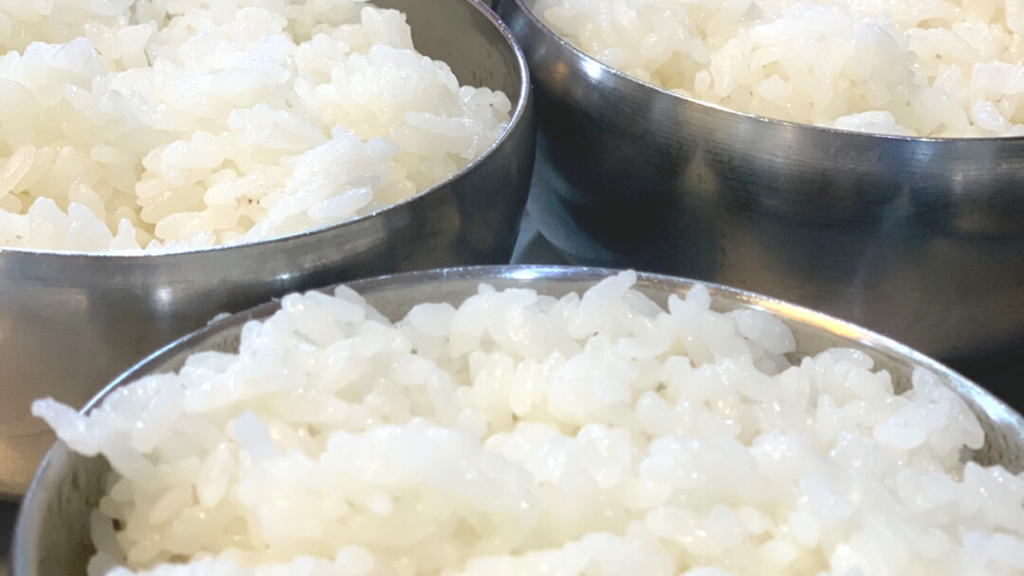 What Is Korean Rice?
Korean rice has a shorter grain than rice from Southeast Asia, and is a lot stickier. It is very mild in flavor, and pairs perfectly with spicy or flavorful soups and stews. Korea is not the ideal place to grow rice – with over 70% of the country covered in mountains, growing rice has been quite the challenge. Nevertheless, rice has been a staple in Korean cooking for as long as anyone can remember.
Koreans are so serious about their rice, that they even have two different words for it. 쌀 (Ssal) is used to denote uncooked rice. Once the rice has been prepared, it is called 밥 (bab or bap). That is why many Korean dishes end in the word bap: this means that the dishes feature rice as a main ingredient. Think of Bibimbap (rice mixed with vegetables and meat), Bokkeumbap (fried rice), or Deopbap (rice with a vegetable and meat sauce).
Kinds of Korean Rice
Of course, Koreans do not just eat one kind of rice. In fact, there are many kinds and flavors of rice, each serving their own purpose. Let's look at some of the most used varieties.
1. Short Grain White Rice (백미, Baekmi)
Short grain white rice is the most basic kind of rice you can get. It has been completely milled so it does not have a lot of nutritional value, but has an incomparable soft and mild flavor. It is also really easy to digest. Usually, Koreans use this kind of rice as a side dish to soups and stews, or they mix it with some whole grain rice or nuts and seeds to add some nutritional value. It is best cooked in a rice cooker, to get it completely fluffy and sticky.
2. Short Grain Brown Rice (현미, Hyeonmi)
Short grain brown rice still has its germ and brain, making it full of vitamins and fiber. However, because it is wholegrain, it is a little harder to digest and has a stronger flavor. That is why this kind of rice is often mixed with simple white rice, to make it more palatable and easier to digest. Because it is low in sugar, diabetics prefer this rice.
3. Glutinous Short Grain Rice (찹쌀, Chapssal)
Glutinous short grain rice is extremely sticky, which means it is often used when making Kimbap – Korean rice rolls – or when people want to eat some very soft, sticky rice. It is also used to make sticky, chewy Tteok (떡, rice cakes). It has a higher glycemic index, so can provide you with a bit of a sugar spike if not paired with nutritional dishes. If you mix this glutinous rice when brewing Korean alcohol, you can make a very attractive honey-sweetened 'cheongju(clear rice wine)' with a well-balanced acidity and sugar content.
If you want delicious, fluffy, and slightly sticky rice it is recommended to mix Chapssal with regular white rice. 
4. Black Rice (흑미, Heukmi)
Black rice has a unique, nutty flavor and is chock full of iron and fiber. Because of its taste, it is often seen as a delicacy. You sometimes get it in fancier – or traditional – Korean restaurants. At home, it is often mixed with white rice. If you go to a Korean rice cake shop, you can see a lot of rice cakes colored with black rice.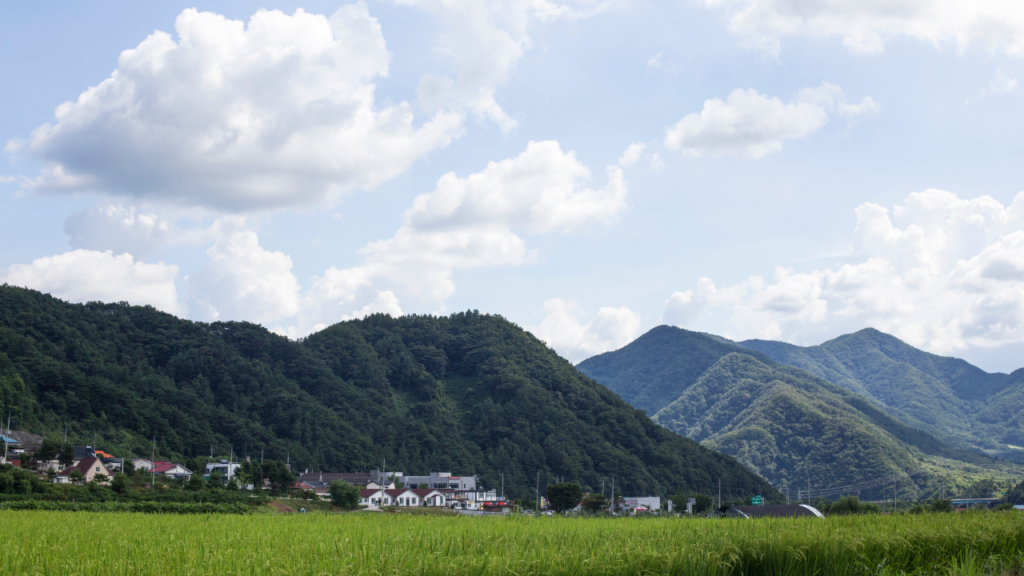 How To Prepare Korean Rice?
Before cooking the rice, make sure to always wash Korean rice. There is a lot of starch in Korean rice, so washing it away makes the rice less sticky and heavy. 
Every Korean has a rice cooker – which is a pressurized cooker that quickly boils the rice to fluffy perfection. If you have a pressure cooker, it is just a question of learning how much water is required per quantity of rice. Usually, it comes with clear descriptions.
You can also cook Korean rice on a stovetop, although it is a little harder. It is recommended to soak the rice for around 20-30 minutes if you cook it on a stovetop, as this makes the rice softer. After you have soaked the rice, you generally use a 1:1 ratio for rice vs water. Add both the rice and the water to the pot, and cook on high heat for 3,5 to 4 minutes. After that, turn down the heat and let the rice simmer for another 15 minutes. Then, turn off the heat and let the pot sit for another 5 minutes. This should make perfectly cooked Korean rice.
Korean Rice Brands
Let's have a look at Korea's most famous – and delicious – rice brands.
1. Cheorwon Odae Rice (오대미 or 오대쌀)
Cheorwon Odae rice is a white rice that comes from Cheorwon county, right on the border with North Korea. It is located in the middle of the peninsula, and because it is quite close to the DMZ – demilitarized zone – there are not a lot of people living there. This means there are ample grounds to grow rice. Cheorwon Odae rice is known for its high-quality, having been grown with fresh water that flows from the DMZ.
The grain of rice has a hard texture, so it is better to soak it in water for a longer time than other brands of rice.
2. Cheongwon King's Table Rice (왕의 밥상 쌀)
Another white rice, King's Table Rice, is known by many Koreans as a good-quality rice that is easily digestible and has a mild flavor. This makes it the perfect basic ingredient for many dishes. It can be stored for a long time and will retain a fresh flavor without tasting old and dusty. 
3. Haenaru Samkwang Rice (해나루 삼광쌀)
Haenaru Samkwang Rice comes from the province of Chungcheongnam-do, on the western coast of Korea. It is grown in wide fields and has a light and natural flavor due to the western ocean breeze. It is known for its characteristic rice smell.
4. Golden Table Fresh Rice (햅쌀 더  담은 황금빛 식탁)
This rice is grown around Daegu, a large city in the middle of South Korea. It is fresh rice – Haepssal – which means that it is the rice from this season and not from older seasons. Generally, Haepssal is said to have more flavor and a fresher taste. It can be stored for a long time, but will lose some of its flavor over the years.
5. Hongcheon River Sura Rice (홍천강 수라 쌀)
Sura Rice is grown around the Hongcheon River, around 1,000 meters above sea level. High in the mountains this rice gets a unique, clean flavor and it contains a lot of healthy amino acids. This kind of rice is often given as a present.
6. Regional Rice
Every province in Korea has their own kind of white rice. As the soil and climate differ slightly per province, usually the rice also has a slightly different grain, flavor, and stickiness. It is therefore considered a nice present to give someone rice from different provinces, so they can try out the best rice from the whole country. They usually sell these kinds of gift boxes at large supermarkets around the major holidays, Chuseok and Seolnal. In addition, these days, it is often used as a gift for guests , such as donating rice or at weddings.
How To Buy Rice In Korea
Buying rice in South Korea is extremely easy. You can go to any supermarket, large or small, and there will be a huge aisle filled with rice. Beware, you buy rice in large quantities like 10 or 20 kilos – as rice is eaten every day, multiple times a day. That is why it might be easier to buy rice online, or get it delivered.
As to what rice you should buy, we recommend just going to the supermarket and looking for the white rice that you prefer. There are countless brands and varieties. It is always good to have simple white rice at home, as well as a small package of whole grain rice, and some glutinous rice for making Kimbap. Usually, you can buy glutinous rice, whole grain rice, and black rice in smaller quantities, as it is mixed with white rice. We also recommend buying some nice seeds and grains – like sorghum, chickpeas, barley, etc. – that can be mixed with white rice to give it some extra fiber, protein, and nutritions. But, there is nothing wrong with a simple bowl of hot, steaming white rice at the end of a long day too!